The CH4300E series of communications hubs offer a convenient form factor for the rapid deployment of Ethernet based particle counting systems. Optimised for use with Pharmagraph enVigil software and MetOne 6015P particle counters, the Ethernet communications hub is designed to be located above or adjacent to the clean room. It offers rapid interfacing to particle counters with integrated pumps and provides easy expansion for Pharmagraph alarm indicators and Series 2000 I/O modules/ MX5000.
Available in versions supporting from one to eighteen particle counters in a single unit, the CH4300E includes a 24V power supply, Ethernet switches and a serial device server. The built-in MX6001 intelligent serial device server provides RS485 serial communications for alarm indicators, analog input modules for environmental monitoring. It also offers digital outputs to directly drive an alarm beacon and a digital input to read an associated mute button. The enclosure accommodates up to eight Pharmagraph Series 2000 I/O modules, offering up to 64 4-20mA inputs or 48 4-wire Pt100 inputs in any mix of modules. Alternatively, it accommodates a single Pharmagraph MX5000 I/O rack offering up to 84 4-20mA inputs or 42 4-wire Pt100 inputs in any mix.
The CH4300E is designed to be anchored to the wall using M8 bolts.

Datasheet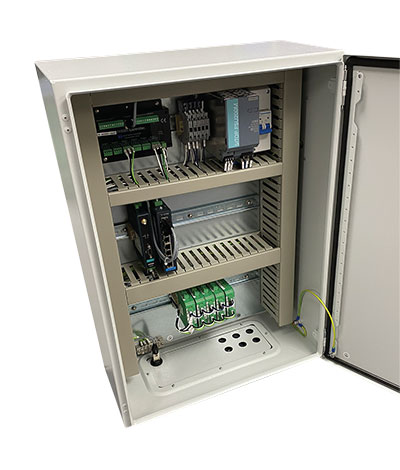 Example using Series 2000: 5 Ethernet counters and 18 Pt100 inputs