The PA4500x next generation pump assembly permits rapid deployment of Ethernet or Serial based particle counting systems. Available in versions supporting from one to five particle counters, the PA4500x includes a power supply, an Ethernet switch (PA4500E only) and an intelligent control module plus individual contactors and overloads to drive pumps. For ultimate flexibility, the PA4500x offers up to four individually controlled contactor/overload pairs supporting multiple pumps*, so that particle counters can be driven uniquely or in groups. Where multiple counters are switched on and off in unison, for example, in an isolator, a single larger pump can be used. Extending this example, a single small pump may be added to drive an independently controlled background particle counter.
For the PA4500E a five channel Power-over-CAT5E merge module provides 24V power and Ethernet ModBus TCP to be fed to each particle counter via a single CAT5E/CAT6 cable.
For the PA4500S a six channel MX6001 Multi Function Controller provides 24V power and RS485 ModBus RTU Serial comms to be fed to each particle counter via a single CAT5E/CAT6 cable.
The base of the PA4500x houses the vacuum pumps on anti-vibration mounts. The pumps plug directly into the enclosure and allow for rapid replacement during servicing or in the event of mechanical failure. Each pump is fitted with a Festo 16mm quick release vacuum fitting and a relief valve. A five-way manifold block is automatically included where a larger pump needed to drive multiple counters is specified**.
The PA4500x incorporates an MX6001 multifunction controller offering six serial interfaces plus isolated digital inputs and outputs. The digital outputs directly drive an alarm beacon and a digital input reads a 'Mute' button for the alarm sounder. It houses a CC2044 module connected to one of the MX6001 serial interfaces to drive the contactors for pumps. The remaining five RS485 serial interfaces are available to drive remote alarm message displays and a system watchdog module, for example.
NOTES:
* Pumps must be ordered separately and not all combinations are possible or consistent. Consult the sales office if in doubt.
** A five-way manifold block with 16mm quick-fit connectors will be supplied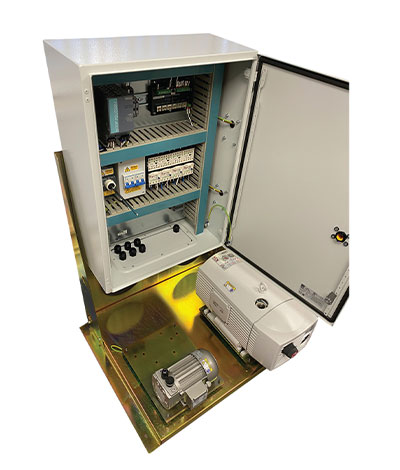 Example: Four individually controlled Ethernet counters